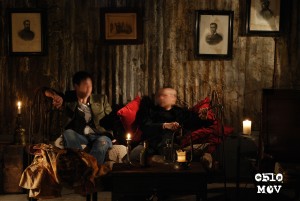 Oblomov
are an Italo/Russian duo (currently based in Italy) making original music, a charming mix of electronic and post rock, deeply atmospheric. The music goes along with a very special live performance that sees them play live while sitting on a sofa between radios, an old television broadcasting videos of the eclectic video-artist Flavio Sciolè, and other oddities.
The project started with the idea of ​​putting into music the paintings of Adriano Fida, recent winner of the Oscar Art Expo 2015 .
It isn't rare to find a headphone set at Adriano Fida's exhibitions, where you can listen to our music standing in front of the painting that inspired the tune.
Oblomov have self-produced ath the Emmenthal Studios in Bologna the first album, "Sound of the soul", and then embarked on a 15 dates tour started in Berlin last December.
The new EP "Multiexit", out on September 23 2006, is totally free for download.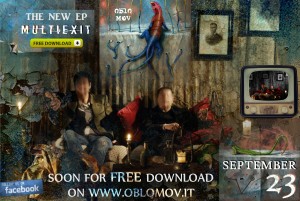 Live performances are sui generis. Oblomov perform live on a stage that resembles a living room: they stand on a sofa, cook their dinner while playing and eat it, and they showcase the Grundnick Retrosound, 1956's television reassambled which always transmits videos and sounds synched with the music – and more absurdities.